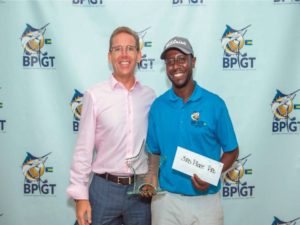 The Bahamas Professional Golf Tour (BPGT) and RMS Insurance Co. have partnered once again, set to stage the fourth golf classic in the tour's signature series of pro-am tournament play at the Royal Blue Golf Course at Baha Mar.
With just under two weeks remaining until tee-off, the excitement and buzz for the fourth BPGT Classic is at an amazing level. The BPGT, spearheaded by Riccardo Davis, along with RMS Insurance and RMS President Brian Moodie, are hopeful that one lucky player will be awarded the $1,000,000 purse for a hole-in-one shot, and that the tournament is truly competitive.
The hole on the golf course won't be announced until the day of tournament play, but it will be a par-3 hole. The professional and amateur golf enthusiasts are all preparing and practicing daily — long drives, heavy woods, strong arms and that perfect swing will all have to sync perfectly to successfully sink a Hail Mary hole-in-one shot.
The tour is extending special thanks to RMS Insurance Co., through Moodie, for being the title sponsor of the BPGT million-dollar hole-in-one golf classic.
The event, round four of the signature series, is set for Friday, August 31, at the Royal Blue Golf Course at Baha Mar. Tee-off is set for 2 p.m., sharp. Interested persons are asked to register early, as available space is limited.
The general public can follow the BPGT on Instagram, Facebook, Twitter or at the website www.bpgt.org, for ongoing philanthropic initiatives as well as upcoming BPGT signature series golf classics.