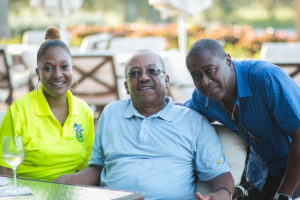 On Thursday, July 26th, The Bahamas Professional Golf Tour hosted its 3rd Golf Classic in the Signature
Series of Pro-Am Tournament Play at the scenic and serene Ocean Club Golf Course. The BPGT
welcomed both Pro and Amateur Golfers for a third round of competitive and professional golf to the
tournament series with a strong showing of pro players setting the course pace. Tournament play was
both fierce and competitive and ended in a tie-breaker showdown between Lemon Gorospe; 1
st Place.

Pro Category Winner from Albany Golf Course and Jim Duncombe; seasoned golf pro and coach better
known as "Swing Doctor". The four hole tie-breaker ended with Jim losing gracefully to Lemon in a
double-boegey. The 1st Place Pro Category score from Lemon Gorospe was 74, for +2. Lemon was also
the winner of the Pro Team Category with a team finish of -16. Matthew Cox secured the 3rd Place Pro
Team Division Prize with a score of -6. Also, in the Amateur Category Pablo Nahamias shot an even par
round of golf finishing at 72.
In addition, A'Marie Smith; a leading Junior Golfer made her second appearance at The Bahamas
Professional Golf Tour Classics and played a stellar golf game finishing in the pack midway amongst the
amateurs. She also secured a team prize as the second place Team Category winner. Also, making a
debut at The 3rd BPGT Golf Classic was Retired Commissioner of The RBPF Paul Farquahson; who also
was a Team Category winner and assured The BPGT Committee that he would definitely be back for the
fourth installment in The BPGT Signature Series August for the Million Dollar Hole-In-One Classic. Special
mention goes to Sean Cracraft, Baha Mar Royal Blue Director of Golf; 2nd place Team Category Pro
Winner with a score of -15. Congratulations to ALL registered players.
Special thank you to Breezes Resorts as Title Sponsors for The BPGT 3rd Classic and committed BPGT
Tour Partners. Round Four of The BPGT Golf Classics returns to The Royal Blue Golf Course at Baha Mar
August 31st, 2018. Tee-Off is promptly at 2pm. Register early! Space will fill up fast and is LIMITED!
Follow The BPGT on INSTAGRAM, FACEBOOK & TWITTER for ongoing philantrophic initiatives as well as
upcoming BPGT Signature Series Golf Classics at www.bpgt.org.