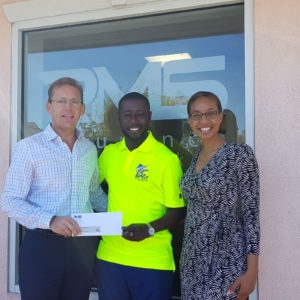 The Bahamas Professional Golf Tour is all set for Round 2 in it's Signature Series with RMS Insurance
Company as the driving sponsor of the sophomore classic. The launch of the first BPGT golf open set the
pace for a very competitive series of tournaments and the second installation will deliver just as great
anticipation and excitement as the first BPGT Open. RMS President, Mr. Brian Moodie is pleased to be
amongst the first companies to take on the Lead Sponsorship in the BPGT Tournaments says in support;
"RMS is a proud sponsor of the Bahamas Professional Golf Tour. We support such opportunities for local
golfers to showcase their talents and this tour gives them such an opportunity both locally and
internationally. We also applaud the BPGT's commitment to giving back to the community and their
involvement with REACH."
On June 29th, 2018, it is anticipated that just under sixty (60) Professional and Amateur Golf enthusiasts
from our local community and internationally will set their sights on attractive prize purses including
Cash and other great prizes. We look forward to seeing familiar local professionals including Greg
Maycock from our Second City, Freeport – a senior local professional who continues to excel in golf;
along with the first Pro Overall Leader; David Harris of Houston, Texas; Tee-Off 2:30pm prompt. Special
thanks to Scott Farrington and SunTee. Under Armour is the preferred brand of The Bahamas
Professional Golf Tour.
The BPGT invites all Professional Golfers and Top Amateurs to join us in the second round of the BPGT
Professional Golf Classic; hosted at the Royal Blue Golf Course @ Baha Mar; PROUD TOUR PARTNER;
Tee Off is at 2:30pm Friday, June 29th, 2018.
Meet You On The Greens!
For Registration Details, email bahamasprofessionalgolftour@gmail.com or visit the website at
www.bpgt.org